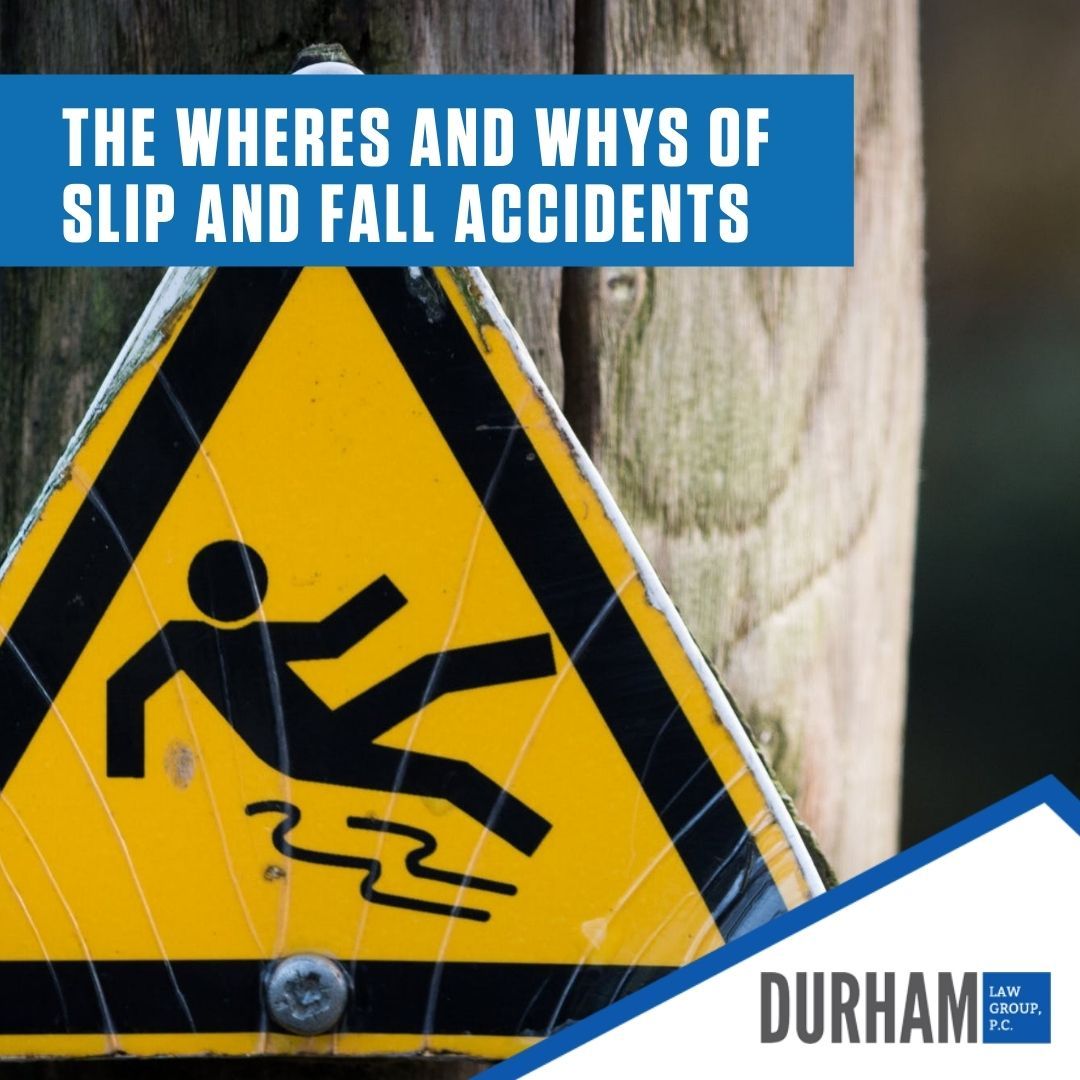 "Slip and fall" is a term used for a personal injury case in which a person slips or trips and is injured on the property of someone else. These cases usually fall under the broader category of cases known as premises liability claims. Slip and fall accidents usually occur on property (or premises) owned or maintained by someone else, and the property owner may be held legally responsible.
Why Do Slip and Fall Accidents Occur?
When a business or property owner fails to maintain their property or to warn visitors of potential dangers, they can be liable when a person injures themselves in a fall. Here are some of the common ways these accidents occur:
Wet and slippery floors. Spills and water and ice tracked in from outside can cause floors to become dangerously slippery, resulting in falls if the mess is not promptly cleaned up or a warning sign is not posted. In addition, cleaned floors can become treacherous due to constant cleaning and waxing, especially in settings such as hospitals where keeping the facility clean is critical.
Clutter and debris. Aisles in stores and buildings and in walkways around a building can become tripping hazards when merchandise, boxes, equipment, materials, trash, or debris is left out for guests to maneuver around.
Snow and ice. Snow and ice is not a huge problem in Georgia. However, when bad weather causes these conditions, business and property owners create dangerous conditions when they fail to promptly remove the snow and ice on sidewalks, driveways, parking lots, stairs, steps, and other walkways.
Stairways. When handrails become loose or are missing or stairs become worn or are not the proper height, guests can slip and have a dangerous fall. This can be especially dangerous when the staircases are outside and also slippery due to rain or ice or when the lighting is poor.
Inadequate lighting. Insufficient lighting in parking lots, staircases, and hallways can make it impossible for unsuspecting guests to see other dangers like water on the floor or torn carpeting.
Damaged sidewalks. If sidewalks or walkways have cracks or gaps between segments, a person can easily trip and take a hard fall.
Damaged flooring. Loose floorboard and tiles; worn, torn, and frayed carpet; cracked flooring; and uneven flooring can cause a person to trip and fall and are a leading cause of these accidents.
Potholes and ditches. Potholes in parking lots or driveways can be a danger to unsuspecting guests. Any opening—such as a hole, ditch, or manhole—must be covered up or warning signs posted around it.
Where Do Slip and Fall Accidents Occur?
A slip and fall accident can happen virtually anywhere—even in your home—when the property is not maintained and warnings are not posted properly. Common places where slip and fall accidents occur include:
Stores
Restaurants
Theaters and movie theaters
Stadiums and other sports arenas
Parks and playgrounds
Amusement parks
Workplaces
Apartment complexes and other rental properties
Private homes
Swimming pools
Escalators and elevators
Nursing homes and assisted living facilities
Parking lots and garages
If your loved one has been a victim of slip and fall, please do not hesitate to contact us at Durham Law Group.